Acing the Holiday Rush with Amazing Customer Support
Published: January 13, 2023
Customer support is always important. However, for e-commerce and other businesses, the period that comes sliced in between Black Friday and New Year's Eve is not exactly the most wonderful time of the year when you work in customer support. When your support queues are out of control and it feels like everyone but the support team is on holiday, it can be exhausting.
Retailers are beefing up in-store customer service staff to enable customers to pick up and return products purchased online. Yes, the busy holiday season poses a number of challenges and opportunities.
If you're not careful, that influx of customer communications can compromise the quality of service – but you can't afford to let customer service suffer during the holiday rush.
Fortunately, it only takes a little preparation and consideration to ensure your customers still enjoy a stellar experience during the hectic holiday season.
While spikes in demand for customer service can test your staff and your systems, planning and preparation can help you come out stronger than ever on the other side
Ways to Set Up Your Customer Support for Success this Holiday Season
Support teams are in a position to help optimize the company's holiday sales and potentially acquire new and devoted followers with the service they provide. By planning ahead and being strategic about where you place your efforts, you ensure a less hectic holiday season for your team and a better experience for your customers.
Pick the Right Communication Channels
Whether you have a brick-and-mortar shop, an e-commerce site, or both, you need to decide how and where you'll communicate with your customers around the holidays: Email? Live chat? Phone support? Social media?
If you're unsure which channels to focus on, look at where the majority of your current customer questions come from and decide whether that's working for you and your customers. Think you might want to add a new channel, but not sure which?
Again, start with the channels your customers currently use the most, then decide which you have the capacity to support. Give yourself plenty of time to set up processes and experiment with new tools long before you're in the throes of holiday traffic. Don't launch a major new channel (such as chat support) right before the holiday rush – test it out during less busy times of the year to get it down first.
Once you've chosen your channels, assign each one a dedicated owner. Who is responsible for making sure every email gets a response? Who is staffing chat, and during which hours? Ownership reduces inefficiencies, ensures consistency of service, and makes it easier to identify future improvements.
Be sure to let your customers know exactly where they can find you. Post contact options in multiple places on your website – make reaching you on whatever channels you support "one-click easy," so you don't lose customers to unnecessary confusion or friction.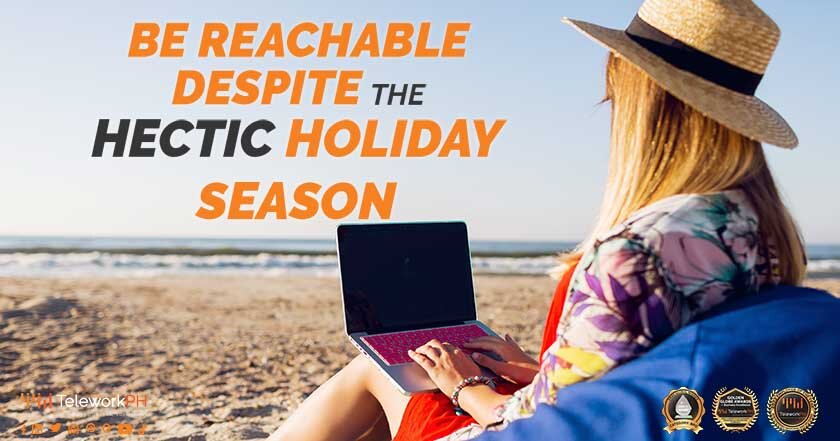 Outsource Additional Seasonal Customer Support
"Outsourcing" isn't necessarily a dirty word. If your business has any sort of online presence, consider hiring remote customer support staff to help you manage holiday volume. The larger candidate pool gives you greater access to the best people, as well as additional coverage when you hire people in multiple time zones.
Outsourcing all or part of your support team to adjust for seasonality allows you to scale your team size up and down as needed, without over-hiring or having to let people go when sales quiet down again in the new year.
The ability to go beyond answering questions to improving your business is further justification for outsourcing customer support. Ultimately, your customers will be the judge – if they're getting responsive, friendly, empathetic, and effective help, it won't matter to them who they are talking to.
Speed is indeed very critical for customers who are pressed for time. And the holidays are a great time to double down on empathy. Good customer support professionals understand that most grumpy customers are simply having a bad day – it's not personal.
The holidays, however, are known for adding an extra layer of stress, and customer interactions are no exception.
To provide the best support during this time, start by coming to each conversation with empathetic calm and focus on fast solutions.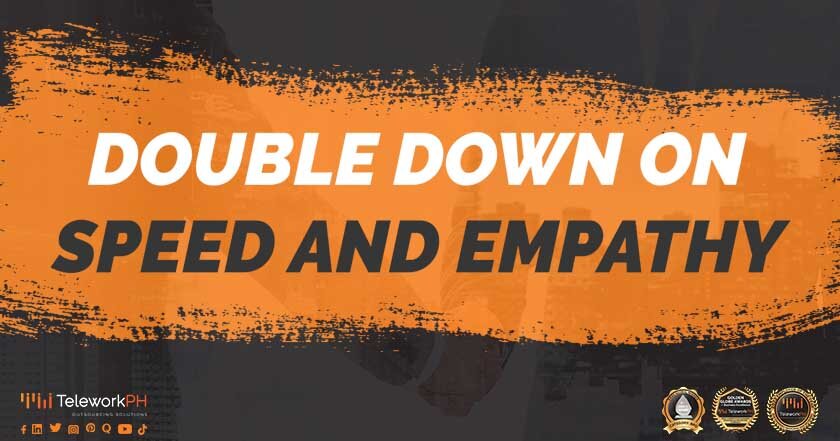 Make your business hours clear to your customers, as well as how long they can expect to wait for a response. Set up an auto-reply to be explicit about what your office hours are, what your shipping delivery dates are, and so on – setting expectations goes a long way, and is crucial to maintaining customer happiness around the holidays.
By proactively communicating with customers that your response times are a bit slower than normal, you can create a better experience for customers – they aren't sitting around worried that you just didn't see their questions – as well as reduce the likelihood that your support team will have to spend time resolving duplicate requests.
Replicate by Automation
Automation works best when used to enrich, not replace, your customers' human-to-human experiences. Don't replace your team with robots; help them become superhuman.
Use software to help streamline and enhance customer service – for example, you can set up a workflow in your help desk to track high-demand products you know will sell out and have complicated shipping requirements. Or you might anticipate and prevent any potential problems by tagging conversations based on the products a customer has ordered, to get ahead of the volume or any shipping or technical issues.
Review and update your help desk's saved replies. Having saved replies ready to go will help your team answer questions more quickly and make it easier for other company employees and temporary agents to provide quick and accurate support.
Set up workflows and filters to tag or split out basic questions that non-support team members can help with.
Proactively communicate with customers. Consider setting up an auto-reply email if your response times are going to be significantly longer than normal. Setting accurate expectations helps inspire patience and understanding from your customers.
Beef Up the Customer Support Self-Service Portal
For the many customers who would prefer to help themselves, make sure they can – self-service is a win for everyone. Remember, customers are pressed for time too, so if they can find an answer to their question without having to contact support, you've reduced the effort they need to expend. And quality self-service options allow your team to help a higher volume of people overall, potentially increasing your holiday sales.
Any help documentation should be easy for customers to find, preferably in the location where the question would naturally arise – this can be as simple as linking text on your site, or embedding widgets that can point shoppers toward information at the source.
It's also helpful to make the same information available to your staff, so they have the information they need at their fingertips when they're helping customers.
A comprehensive, intuitive, easy-to-navigate knowledge base is a massive time saver and resource for both customers and your team.
Before the holiday rush kicks off, spend some time reviewing your reports from the last holiday season. In particular, look for frequently asked questions that could easily be answered on your website or in your knowledge base. Then, make it easy for customers to find those answers on their own without having to reach out to support.
Consider updating your contact page to address common questions and link to self-help resources.
Display answers to common questions prominently in your help center. While you may want to highlight other knowledge-base articles throughout the rest of the year, it's better to put common holiday FAQs front and center when you know that's what most people will be looking for.
Audit and Monitor Your Online Presence
When was the last time you Googled your company name? If you don't monitor this on a regular basis, conduct an audit of your online search results at least one month before the holiday season begins.
Is your contact information up to date in Google's search results? What about your Facebook page, or that Twitter or Instagram account you opened a few years ago?
When customers can't find an immediate answer on one channel, they may seek out others. Make sure any accounts that show up are actively monitored and contain accurate and up-to-date information. Review your website's contact page and consider updating it with holiday-specific information such as extended hours, temporary shipping policy changes, where people can go find answers, and so on.
Expand Your Customer Support Team
If you expect a significant increase in the number of customers requesting support over the holiday season, one way to manage the influx of requests is to add more people to your support team.
If you have all team members helping with support throughout the year as part of a whole company support program, ramp up the number of hours that non-support employees spend in the queue during the holiday season
Outsourced support doesn't have to mean super cheap, script-driven call centers. Today, there are companies that function as flexible extensions of your own team. You can benefit from their vast experience in flexibly scaling up and down.
Hire qualified temporary help. Look for people who have the flexibility and skills to ramp up quickly. For example, you might have current customers who are also freelancers who'd be willing to jump in and help for a couple of months. Because they're customers, they're already familiar with your product and won't need as much training.
Before expanding your team, it helps to update your onboarding playbook so that other company employees or outsourced/temporary help can hit the ground running when jumping into the queue.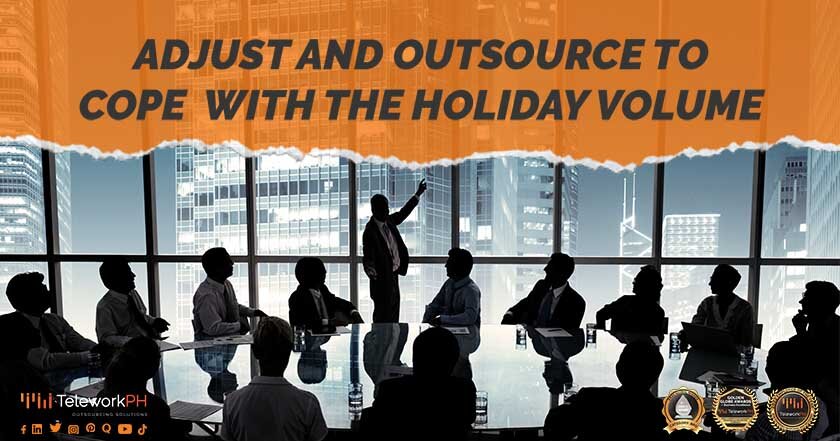 Keep Tab of What You Learn
Though it may seem like one more task, taking time to record learnings during the holiday rush is an investment in your whole team's future, saving them time and headaches next year.
Take note of things you tried that didn't end up being necessary, systems that slowed you down, and documentation that was missing or needed updating.
It would be extremely helpful to keep a tally sheet where you record things like how often you receive specific support requests. At the end of the rush, conduct a retrospective and go through all of the data you collected, then use that data to improve for the next holiday rush.
Take Care of Your Customer Support Team
At Telework PH, we believe in finding ways to balance the momentum of the team's workload while staying aware of employee burnout. When we start to notice a team member hit empathy fatigue, we try to give them some space and encourage team members to take adequate breaks and time off.
You can't anticipate everything that might happen during peak season, so it's critical to balance achieving service excellence with team happiness.
Holiday Rush Calls for an Upgrade on Customer Happiness
When you know what to focus on, you can't let the stress get to you. The only way to beat the holiday rush and blues is to focus on what matters – customer happiness. It's clear why we are all in a rush and it's about making our loved ones happy this Christmas, right?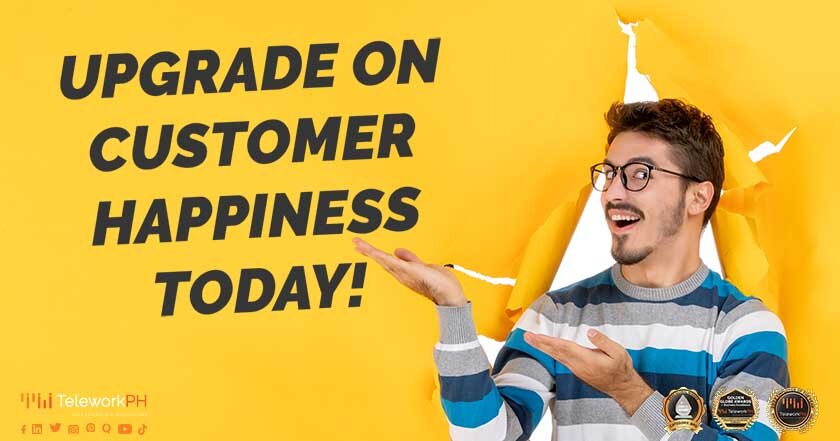 With that in mind, Telework PH takes the holiday spirit to heart by beefing up and upgrading customer service that brings more customers. Amid the stress, blues, and anxieties that the holidays may bring, we know our "ultimately why" in all of these – and we focus on bolstering customer happiness in the merriest season of love, gratitude, and faith.

Follow us for more great content and business insights:
Ready to Elevate Your Business?
Enter your email below to get more information